Exhibition featuring Nikola Tesla's life and career kicks off
来源:中国日报网 2017-09-21 13:58:15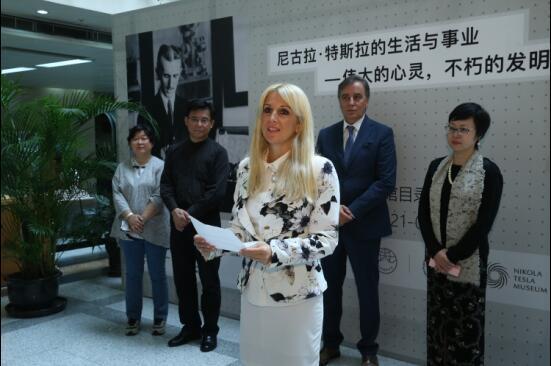 Belgrade's Culture Secretary Ivona Jevtic delivers a speech. – Tang Chun
Director of the Museum of Nikola Tesla Dr Branimir Jovanovic introduces the exhibition. – Tang Chun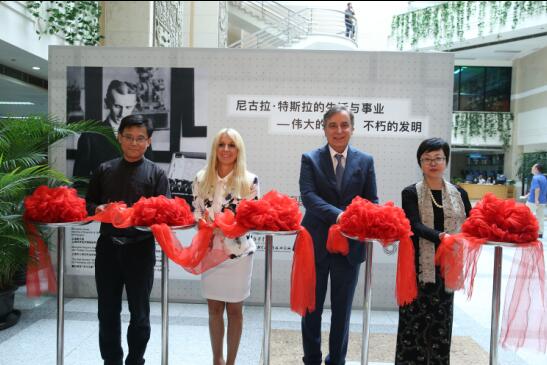 From left: Shanghai Library Deputy Curator He Yi, Belgrade's Culture Secretary Ivona Jevtic, Director of the Museum of Nikola Tesla Dr Branimir Jovanovic and Deputy Inspector Foreign affairs office of Shanghai Municipal People's Government Jing Ying cut the ribbon at the opening ceremony. – Tang Chun
An exhibition featuring the life and career of Nikola Tesla kicked off at Shanghai Library on September 21.
Co-organized by Shanghai Library, Museum of Nikola Tesla, Shanghai People's Association for Friendship with Foreign Countries and the Far East Society of Serbia, the exhibition aims to promote the communication and cooperation between China and Serbia in the humanities and social sciences by commemorating the great scientist.
Nikola Tesla enjoys a high reputation among Serbian citizens. His statues, books and memorial rooms are ubiquitous in Serbia such as schools, universities, libraries, industrial associations and government institutions. The Museum of Nikola Tesla is located in downtown Belgrade. Nikola Tesla has also been regarded as an internationally acclaimed Serbian person like Nobel Peace Prize winner Mother Teresa and tennis player Novak Djokovic.